I've been so busy I haven't posted for weeks, but things are slowly getting done! We have had a weekend to Buladelah for my good friend Penny's 40th birthday party, lots of fun apart from me coming down with a tummy bug on the friday night so not feeling too good until the Sunday.

We also had Chelsea's 16th birthday which coincided with Mother's day this year so we had a lovely lunch on the block.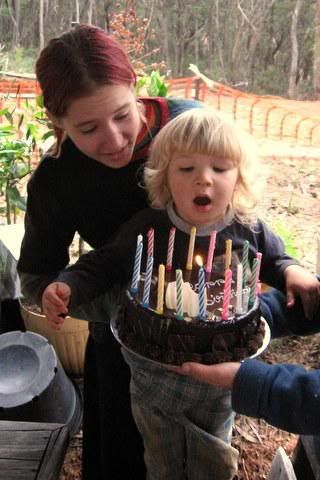 Chelsea getting some help with her candles!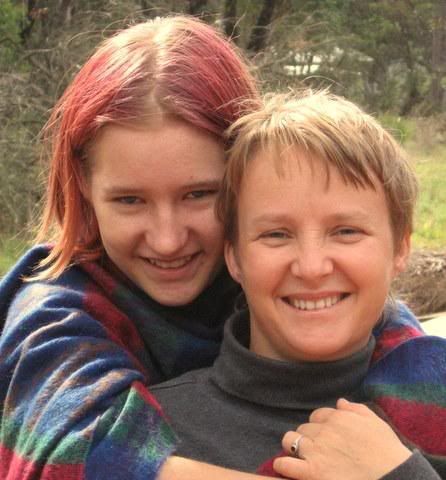 Me & my big girl!!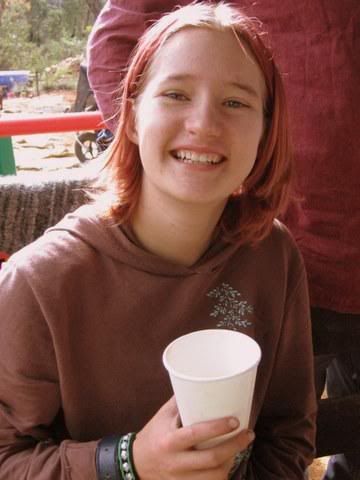 Sweet 16, isn't she lovely???!!! (ohh, she'll kill me for that!!). ((I think that's champagne in that cup!!))
The kids wanted to know what I wanted for Mother's day so after a few days thought & not coming up with anything material that I really wanted I asked for help pouring concrete! We had the holes for the footings emptied out & squared off ready to fill. We all stayed on the block on saturday the 12th, the kids Dad Mario came up in his Combi & they all slept in that & Kim & I , Finn & Ivy slept in the caravan. Kim & I stayed up pouring concrete until after midnight, I filled the mixer while Kim filled the holes.
After lunch the next day we all got stuck in & got about 2/3 of the 120 hole filled.
We had a big party for Chelsea on the block the following Saturday (hence the rush to get those holes filled). We had about 20 of the kids sleep overnight & party until about 3am. We created a Chai Tent for Chelsea, her favourite hangout at the Woodford music festival where we go almost every year for the Xmas /new year holidays. We had a big fire & the kids danced, fire twirled & I think generally had a good time. Chelsea's old teacher Julie from Kinma came up on the train, she taught Chels for years 4, 5 & 6 & we hadn't seen her since Chelsea finished year 6.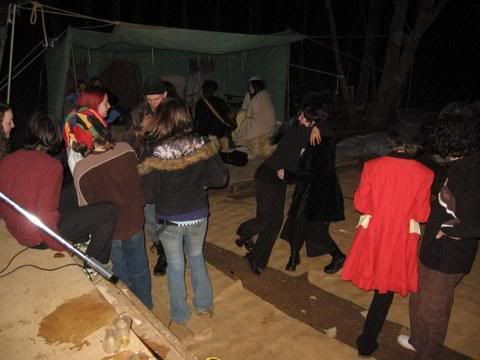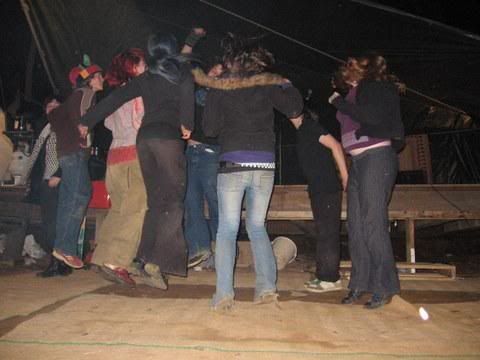 DANCING!!! WHOO WHOOOOO!!!!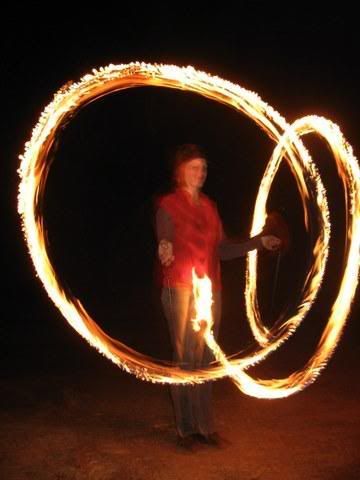 LARA FIRE TWIRLING WITH THE POI. GO LARA!!!!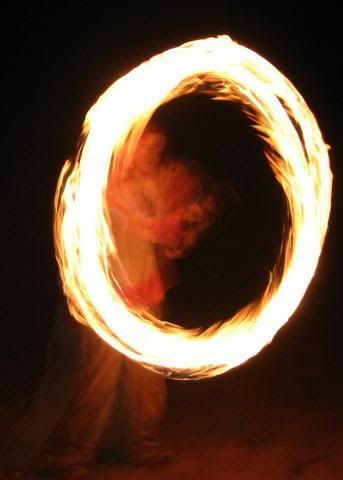 CHELSEA FIRE TWIRLING, GETTING VERY GOOD THESE DAYS!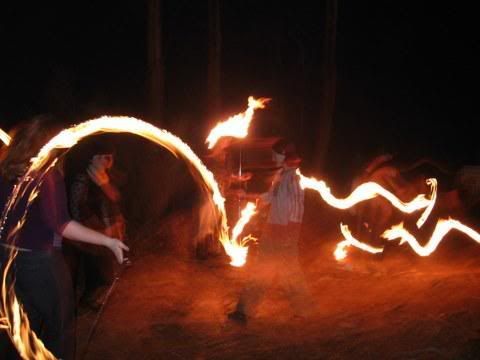 FIRE, FIRE, EVERYWHERE!!!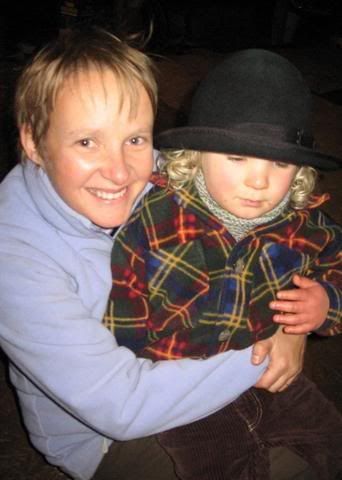 MUM HAVING FUN, FINN GETTING TIRED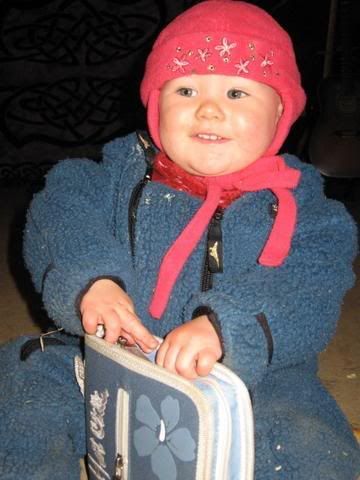 IVY RUGGED UP TRYING TO GET SOME NEW MUSIC OUT OF THE CD CASE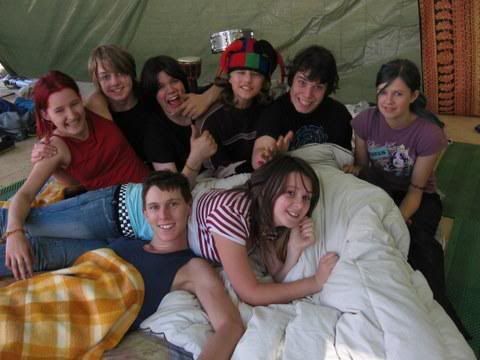 The gang the next morning on the 'shed" floor: Chelsea, Tom, Jack, Brody, Nat, Merade, Warren & Stef.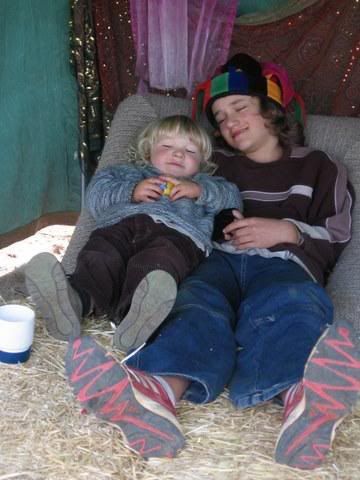 The morning after , Brody & Finn chilling out in the Chai tent
kim got the piers for the shed built & the joists/bearers/floor structure up in time for the party . We rigged up a big tarp over it & it became a stage/kitchen & the kids slept there too.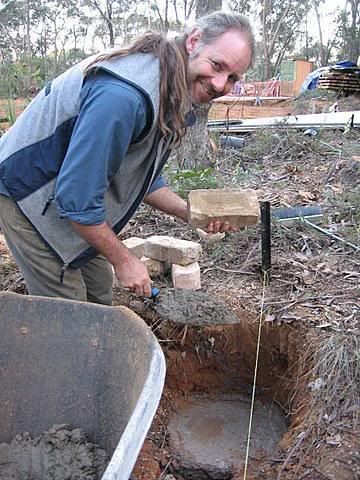 THE FIRST BRICK GOING DOWN, AN EXCITING MOMENT. FINALLY BUILDING
UP!!!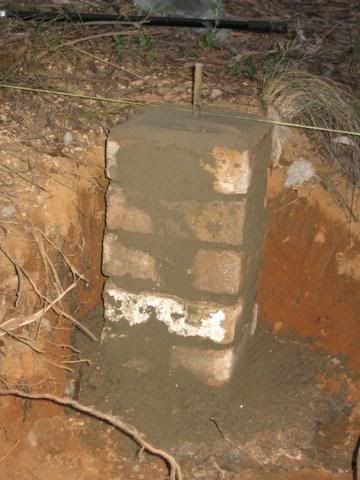 AND THE FIRST COMPLETED PIER FOR THE SHED. ISN'T IT BEAUTIFUL!!!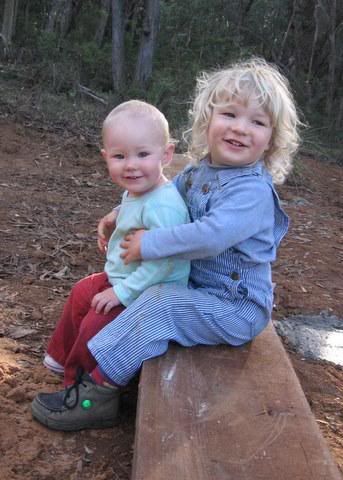 Finn & Ivy in one of their more gorgeous moments ( :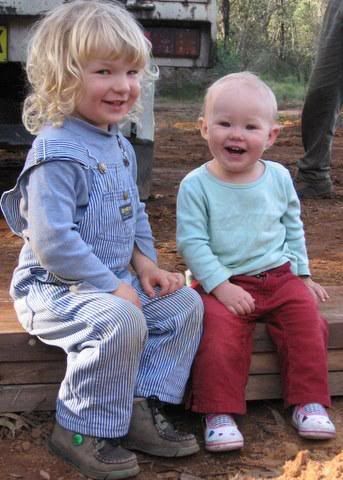 and another one!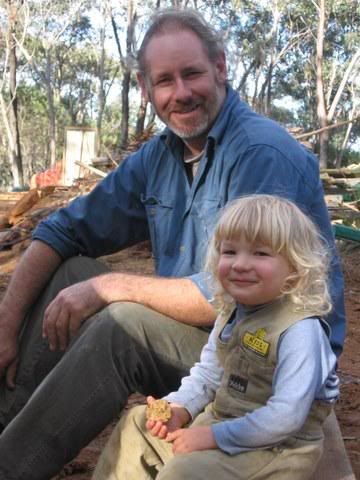 KIM & FINN HAVING A BREAK