There are ants everywhere.
On my desk.
On the kitchen counter.
On the kids picnic table where they have breakfast in the morning.
On the dresser in the entrance way. Everyone is reporting the same problem, it's "that" time of year.
I just read through my last couple of posts & realised that I hadn't mentioned that Finn has been diagnosed.
HFA
. Remember that. high functioning autism.
Very HFA
in my book.
He will be assessed again when he is 6, the result of that will be AS I'm sure (do you remember? OK, one chance,
Asperger's
).
He has made a FRIEND!!!!! His name is
Dash (short for something)
, he is at daycare on the same days as Finn & Ivy & they play. Building things mostly. Not a lot of talking. Suits Finn & it seems to suit Dash too. Dash came to Ivy's birthday
party along with a handful of other new friends (Ivy loves him too)
.
Yes, Ivy has had a birthday, she is now 3 (going on 13)! She was the perfect birthday princess & wallowed in the attention & fun. I am so proud of her, she is a true delight. Uncle P
ete
& AuntieR
enie
bought her a new dress ( I new experience as people don't usually buy us clothing,
hmmm
, I wonder why???). She was so excited & loved it (so did mum). Her little friends gave her some lovely things too & she was very, very happy. They all played so
beautifully
for the whole afternoon, if was lovely to watch.
Brody made her cake yet again this year.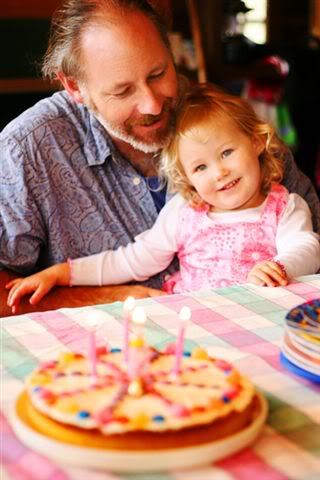 Daddy helping with the candles!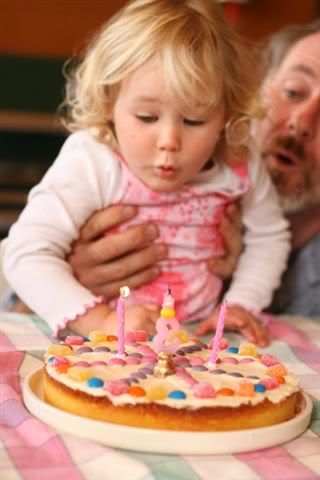 On another note. we have decided to make the completion of my office in the house a priority so we can move to the block. We'll sleep in the caravan for quite some time to come of course, but as long as I can move the business we will be fine.  We are over having to spend our
days apart
at different places & jump from place to place trying to be everywhere at the right time (routine &
Asperger's
go hand in hand & we are finding that hard). I get next to no time at the block which is where I want to be. I need more outdoor time! My office here gets no sun & next to no light & it gets me down. Kim wants to be able to do a couple of hours work at night but by the time we get the kids to bed it's hard for him to justify getting in the car to drive over, it's often 9pm by the time we've had our dinner.  Plus of course we'll save the rent.
So we have a couple of months of very hard work ahead of us to make that happen. I will need to keep the dollars coming in to cover the mortgage at the smae time as packing, sorting, discarding,
ebaying
, storing & garage sale-ing, & of course, shop, cook, clean & be a mum. Kim has a huge amount of work to do too of course, he has 1 more window to put in, then the door frames (we need to find more ironbark, having trouble with that at the moment), thenexterior cladding so we can have the  frame inspection done(by council). Then my workroom lining (
gyprock
) & doors,  the bathroom (lining, flooring & a temporary shower. We will put up a garden shed as a laundry.  
I'm so excited, it's very daunting I must admit as the job is huge to get us there but it will be fantastic to wake up every morning& hear the birds & just to be there!
More news is that Chelsea is planning to move out with Daniel, they will be moving to D
aniel's
stepdad's
granny flat in
Bullaburra
. I'm sad but it was coming. She is nearly 18 after all! She only has 6 more months of school to go, she's doing HSC this year. 
Brody is back at school, going to
Springwood
High in year 10. He's doing well! I think he actually likes it! He missed 90% of year 9 & I had to jump through hoops ot get him into year 10 (he wasn't prepared to go into year 9 again which is what the headmaster wanted). Funny, he is in the top maths class already, he started in the middle of 5 classes & get placed in the top at the end of week 1. Smart boy!  I tried to get him to do some catching up through the holidays but he wasn't interested, obviously didn't need to! he is doing "food technology" (cooking) as a subject which he loves! 
I will get some photos of the house up soon!