Life is crazy! How busy can one family be?
Yesterday I kept having to stop giggling hysterically, my day was so, so ridiculous. I won't go into it, let's just say it felt like a sitcom. Only it's real.
Hmmmm
, scary.
We have some good things happening.
I finally finished the photos for my friend Eleanor. I hope this
slideshow
works OK.
Still working on a few for her sister Sarah though. Nearly done. I spoil myself by allowing 10 minutes to edit a couple over my afternoon cup of tea. I take too many & have to learn when to click on the delete button. I value them all to deeply. I don't have enough decent photos of my own babies I guess!
I must get them finished, I have family photos for my friend Britt to edit, then the pregnancy shots of
Loulou
& her gorgeous boy
Starsan
to do & then I will be photographing new baby
Crue
this week.
How to find time to fit everything in? It's such a catch 22. There is so much to do so we can improve our lifestyle & health, yet to improve our lifestyle & health we must learn to stop, do things for ourselves & relax. I'd love to just potter around taking photos & have time to edit them ( :
We have had good progress on the house.
Almost
all the windows are done & Kim has started cladding. It feels great to be doing something as final as this, each day we stand back & admire how it looks & rejoice in another area that has reached completion. It's extremely satisfying & it recharges our batteries a little.
And I am yet to mention "the annex"! Kim has built a structure onto the side of our caravan to serve as a small living area while we stay in the caravan until the house is finished. it is built entirely out of scrounged/donated materials apart from the screws! The walls are made from industrial panels that are used to make cold rooms. When we tell people we are moving into our caravan on the verge of winter they look horrified. they don't realise that we don't like being cold & don't intend to be! Our annex is like an icebox, except it won't be chilled, it will be heated! 
Here it is in stage of being built over 3 days: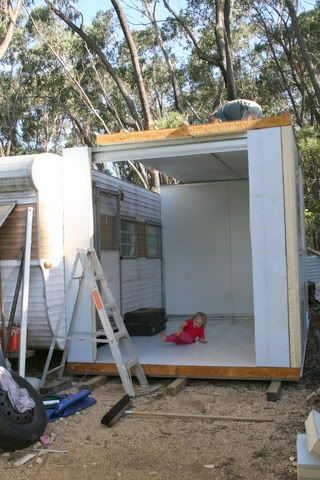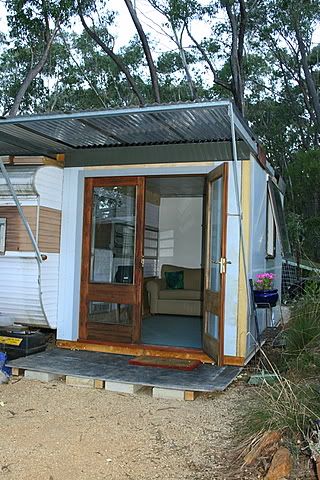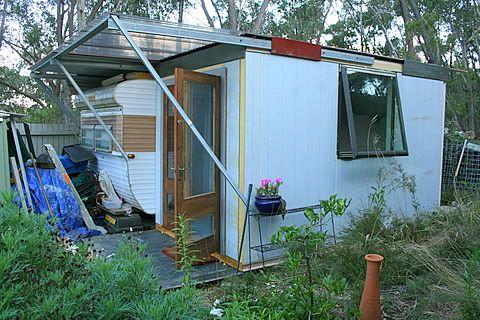 Our new home (:
Yesterday was chilly & raining so we put a heater on & had fish & chips in it & Kim  was sweating! I loved it (never too warm for me).
And this is what our house is looking like these days: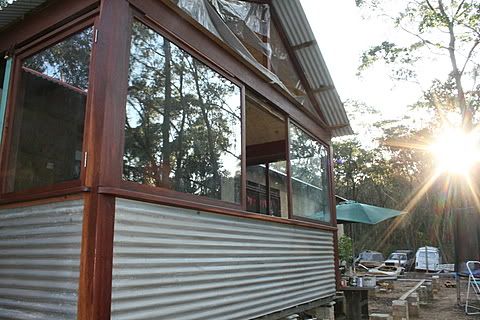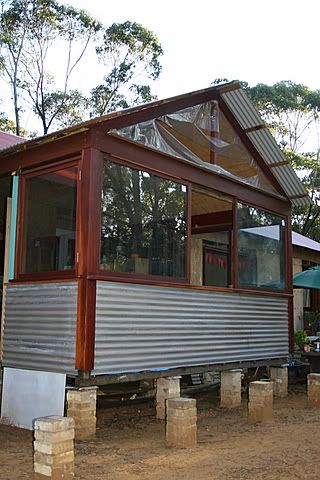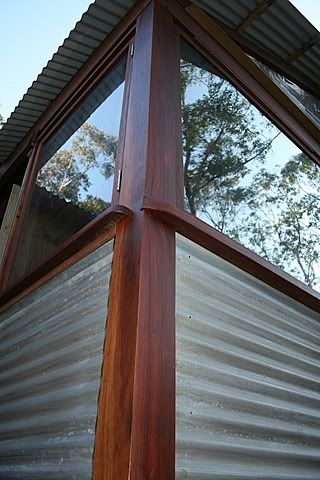 The whole
Eastern
side of the house has since been clad too,  I just don't have photos yet. I'm hardly ever there at the moment, in fact I hardly leave my computer at all!
Ebay
is mad at the moment, I'm powering along with my listing, getting all my kids winter clothing up as it's peak buying time. I have hundreds of items so it's a long haul but it's all going well. I also do a lot of summer wear sales to the US at this time of year, this year is great with our dollar being weak, good buying for Americans who love all my European labels! I have hundreds of books to list, mountains of good quality toys & then the ladies winter wear, some amazing stuff just sitting here. I really need a good employee!
Our other news is that Chelsea has moved out! Last Saturday she & Daniel moved into Daniel's
stepdad's
granny flat in
Bullaburra
, about 15 min. drive from
Katoomba
.
Here they are on their moving in day: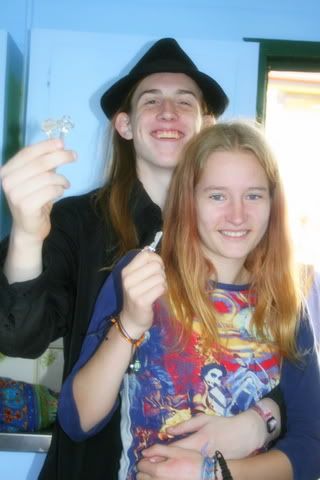 with the keys of their first pad
yes Chelsea has her eyes closed but it's the only other one I took.
It's a bit of a shock when your first child moves out of home. Lucky I'm busy, i don't have much time to think about it. I have to get over my sadness that Chelsea never got her own room in our own house. We rented her entire childhood. 
We talked a lot over the years about how great it was going to be for her to have her own room that she could paint any colour, to not have to worry about holes in the walls for hanging pictures or when we might have to move. 
Now we are on the verge of being able to give her just that but I ran out of time. 
I worked my butt off for too many years, didn't have enough time to spend just hanging out with her & now know I started too late to give her what I wanted for her. Brody is 2.5 years younger, he will enjoy the move into our new house & Finn & Ivy will grow up remembering very little else.  I guess that's one of the problems with having children at 23. 
Luckily Chelsea has always been a happy soul, quite immune to problems or stress around her. She lives in her happy bubble & not much gets to her. I think she had a great childhood filled with many happy adventures. 
Now I get to use my parenting experience to give my younger children an even better childhood. I am aware of so much more now, what really matters & what simply doesn't. I will argue with Finn about how much computer time he gets because I know too much is not OK. But I won't argue when he tries to distract me from bedtime with a desire to tumble on the bed for just a few minutes more, I'll let him show me just 1 (or 5) more cartwheels & tell him how wonderful they were.  I can pick my battles knowingly & for that I am grateful.